Jasun TIPTON (ZERO HOUR) Interview 2006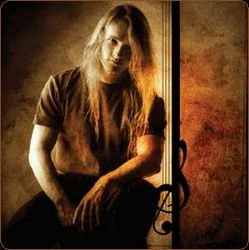 Baris: Hi Jasun. This is Baris from YUXEXES Magazine and you are welcome to "Vine on Guitar" section. First of all let me celebrate for the initial succes of your last masterpiece "Specs Of Pictures Burnt Beyond" Were this succes and all great reviews expected by you?
Jasun: When we finished Specs Of Pictures Burnt Beyond the whole band was just very, very pleased with the final product. I had a feeling that the fans would really enjoy this CD and had a good feeling in that way. Luckily the response has been great from fans and the press and we're excited to support the CD with many live appearances and as much press as we can get to help push the release.
Baris: You had a vocalist change for "Specs…" album. It was not first time for you. And i believe that those differences at vocalists are critical for a professional band. So that, i must ask why did you have Chris (Salinas) on vocals. And as a note i must add, he is very good choice ;)
Jasun: The band was always a fan of Chris's vocals and we knew from meeting him back in 2001 he would be a great fit not only as a vocalist as well a being a friend to the members. I called Chris initally just to do live shows because from what I was aware Power of Omens was still going. Chris told me immediately that he's a huge fan of Zero Hour and would love to be a part of the band if we want him. I just made sure about his situation with Power of Omens and he said they were on their last leg so this was a great opportunity to have the right guy in the band.
Baris: OK, OK, :) we know that you have extremely heavy and powerful sound in CDs. But how about live?
Jasun: I think you capture all those elements and more because of the visual. We just came back from a successful Texas/East Coast tour playing dates in NJ, NY, VA, MA, MD. Zero Hour also played 2006 addition of Progpower USA Atlanta GA as well as Powerprog West fest with Nevermore. We're now going to play the Groove or Die Magazine one year anniversary party in Portland Oregon. We just got confirmed to play the Headway Festival in Holland. We will be doing additional dates with Into Eternity in Europe and right after headway which will all happen in April. We do have some other things brewing and looking forward to doing as many shows as we can to support this new release. If we're close to your area please come and check out the Zero Hour live experience.
Baris: You always have great, in-your-face sound with impressive instrumentalism. I believe this is a trademark for you ;) You work with Dino Alden for that sound… How about next one? So you have any plans to improve your sound?
Jasun: The next CD Im very excited about because just like Specs Of Pictures Burnt Beyond each player is pushing themselves as far as we can take it. There's going to be a lot of crazy patterns still staying heavy with plenty of beautiful clean passages. We will work with Dino Alden for the next CD and continue to go to him as long as he still wants to work with us lol. We love what Dino does for us.
Baris: I believe a different well-known producer like Andy Sneap or Rick Rubin can bring a lot and different kind of approach to your music and sound. Dont take it wrong. Everything is OK with Dino. But new producer, new studio means new challange, right? What are your ideas about it?
Jasun: Both those producers are great and I totally understand where you're coming from. The thing is Dino always captures exactly what the band's looking for. Sonically I dont think there is anybody better. The band has built a relationship with Dino for over 12 years now and Dino knows exactly what to do for us. He is a great friend of mine and an amazing talent.
Baris: If you had a chance for great deal with unlimited production budget, who would you work with as musicians and producer and where would you record it?
Jasun: I guess this is going to tell you how much I love Dino's work. Dino to me is about the best for the style we do. I wouldnt mind checking out Terry Date with unlimited production budget, he's put together some amazing production. Musicians there would be so many as in Pat Metheny, Greg Howe, George Benson, Buckethead and the list would go forever.
Baris: In past, there was Matt Guillory (DALI'S DILEMMA) and Phillip Bennett (ENCHANT) as a support musicians for the band while the situation of Mike Conners illness. Are we going to see that kind of well-known special guests again in the future?
Jasun: You may see that in the future but it wont be on the follow-up to Specs Of Pictures Burnt Beyond.
Baris: What influences when you were a child did you have that made you want to get in progressive music?
Jasun: Pat Metheny Group, Pink Floyd, King Crimson, Jaco, Yes...to name a few.
Baris: What are your favourite actual prog rock&metal bands?
Jasun: Rainbow, Tool, The Dillinger Escape Plan, Meshuggah, Cynic, Sikth, Dream Theater, Fates Warning, Porcupine Tree, Pink Floyd, King Crimson, Cacophony, Racer X, Blue Murder and so so many more.
Baris: You have a great solo album is named "Seduction". And i must say that i liked it very much. Could you get from this album what had you expected?
Jasun: Seduction was a blend of many styles of rock, jazz, new age, prog, fusion. My main objective was to make classy late night vibe music. I love how the CD came together, very happy with the sound. People could check out some clips on my myspace page..www.myspace.com/seduction
Baris: In your solo, there is a song which is so special. It is called "Question & Answers". But i'd rather you to tell us why this song is "special"
Jasun: The guitarist who made it clear what style I wanted to play was Jason Becker. When I heard Perpetual Burn I was just floored with the beautiful arrangements and amazing playing of Jason Becker. Just one of those CDs that inspires you to find your voice as a player. I was fortunate to meet his father and his manager Pat Mapps and was trying to help them promote Perspective. I would take the flyers they had send them to all the CDs stores, bought many copies to share with my students and fans of music. Question and Answer is dedicated to Jason Becker and he is a constant inspiration to me. Jason is battling ALS as Im sure most of you know and please check out his website and drop him and his family an email letting them know how he has inspired many.
Baris: How do you compose the songs of Zero Hour with your twin brother? How did you settle on guitar and bass respectively and how's the proportion of improvising and regular composing?
Jasun: My brother and I look at Zero Hour as music without any boundaries. Troy, Mikey and I feed off each other when jamming in the studio together. We come into the studio having nothing just jamming an idea that comes to our head in the studio to make it as organic as possible. I think thats whats help us create our sound. Troy and I can interact in so many different patterns using modes, exotic scales, tapping passages that interact with clean tone material.
Baris: Can you describe your daily practice regime.?
Jasun: It changes all the time because if we're in a writing process I may start trying some new ideas such as at the moment two note per string, wide interval, string skipping ideas. Thats what I was working on yesterday to interact over an exotic bass line my brother had. I think right now we're practicing more interaction with the instruments and the sounds they project for the moment.
Baris: Your approach to the seven strings doesn't seem like the 6+1 approach of most seven string guitarists. How were you able to incorporate the extra string so successfully into your playing and what initially got you into sevens?
Jasun: I think its by messing around with it for a very long time. I hated playing 7 string first 8 months I had it. I think it was because it wasnt exactly my voice coming out of the 7 string guitar just yet. Now I cant play anything else but a 7 string I love it. The best thing going into a 7 string is thinking of the ideas you apply on a 6 string and really voicing them out on a 7. Everyone should want to have their own voice when picking up a new instrument even if it means an extra string.
Baris: What are your inspirations for making music and living your life?
Jasun: Music is everything to me and I am a very happy guy due to the amazing people that are around me. I have an amazing family, friends, bandmates. Life really is music because every mood you feel in life you can feel through music.
Baris: How does it feel to be known and loved with your music in other countries? Look, this interview is having with someone from Turkiye. Much much far where you are. Do you know that you are known in here? And how does it feel your songs are immortal while you will die someday?
Jasun: It feels amazing. Thats the one thing about music its universal. I have met so many amazing people throughout the world and many I could say are my friends. I wouldnt have met these people if it wasnt for music and its just amazing to do an interview like this right now, its awesome and I appreciate it so much.
Baris: I thank you a lot for your care Jasun. Thanks for this interview and thanks for your impressive music. Please tell your brother to our best wishes, too. Yes, i give you the priority for parting ;) Take Care, my friend…
Jasun: Thank you Baris for help spreading the word about us and we cant thank you enough for that. You Rule Bro and all the ZH fans around the world....METAL!!!
http://www.jasuntipton.com/
http://www.zerohourweb.com/